Morocco, Ghana Cement Relations with 25 Cooperation Agreements
Morocco and Ghana opened a new chapter in their bilateral ties with the signing of 25 cooperation agreements during a ceremony chaired by King Mohammed VI who is currently paying an official visit to Ghana and Ghanaian President Nana Akufo-Addo.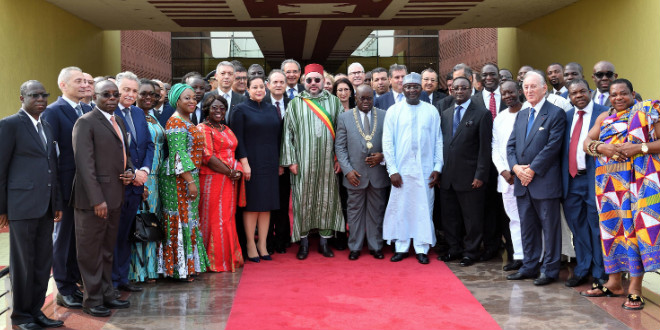 Five of the agreements were signed between the two governments to promote bilateral cooperation in the field of agriculture, industry, investments, double taxation avoidance
and normalization.
The rest of the agreements were signed by the private sector actors in the two countries providing for cooperation in the fields of investments, environment, trade, enterprises
promotion, banking, technical cooperation, insurance, small-scale agriculture, renewable energies, scientific and technical cooperation, tourism, infrastructure and finance.
As was the case with previous African tours prior to joining the African Union, Morocco opted for the share and transfer of know-how and contributed to efforts to build a safe and solidarity-based future for the continent.
In Accra, King Mohammed VI held talks with the Ghanaian president on the means to further bolster the political and economic partnership between their two countries.
The West African state was among the group of 28 AU member countries of African Union (AU) to have signed a motion in support of Morocco's territorial integrity.
The King's visit to Accra was preceded by a Moroccan-Ghanaian business forum during which businessmen from the two countries discussed investment opportunities.
Political ties between the two countries have been following the rising trend of their bilateral trade exchanges. Between 2006 and 2010, trade between Morocco and Ghana grew by
an average 33% to stand at 76 million dollars of which Morocco exported 70 million dollars.
Prospects for further boosting economic partnerships between the two countries abound.
Ghana, the largest economy in the ECOWAS after Nigeria, is among the three largest economic partners of Morocco in the African sub-region.
Ghana is the second country the king visits after Morocco's triumphal return to the African Union on January 30. Before Ghana, the Sovereign visited South Sudan.
This new Royal tour in Africa is expected to take the Sovereign to Zambia, Kenya, Guinea- Conakry, Côte d'Ivoire and Mali.