King Mohammed VI Launches Final Stage of World's Largest Solar Plant
Morocco has bolstered its leadership in renewable energies with the inauguration of the fourth and final stage of the Noor Solar plant complex in Ouarzazate with a 582 MW total capacity.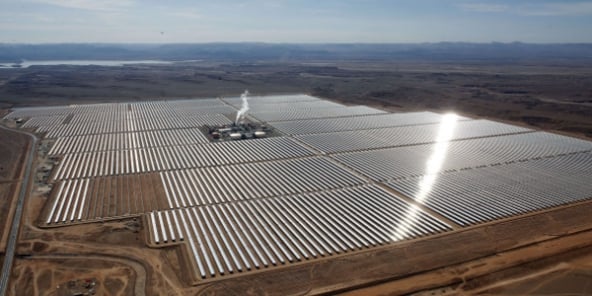 King Mohammed VI launched works to achieve the fourth phase, which uses photovoltaic (PV) technology to produce electricity. The site will have a capacity of 72 MW and will be achieved for a total cost of 750 million dirhams.
Noor Ouarzazate IV will be implemented by Morocco's Solar Energy Agency (MASEN) in partnership with a consortium of private operators led by Saudi Acwa Power group and German development bank KfW, which alone contributed 659 million dirhams.
The Noor project is part of a low carbon economy endeavor launched by Morocco to bring the share of renewable energies in the national electricity mix to 52 pc by 2030.
The second and third power stations of Noor solar complex (Noor II and Noor III) were launched by the Sovereign on February 04, 2016.Their completion rate reached 76 and 74 pc respectively.
With a capacity of 200 MW, Noor II plant is developed on a maximum area of 680 ha, based on solar thermal technology, with cylindrical parabolic trough.
Noor III plant is built on a 750 ha area using a solar power tower (150 MW). Noor Ouarzazate II, III and IV, combined with Noor Ouarzazate I (160 MW) that started operating in February 2016, make Noor Ouarzazate the largest multi-technology solar production site in the world, with a total investment of 24 billion dirhams.
The Noor-Ouarzazate solar power complex, which will become the world's largest when completed in 2018, will provide electricity for 1.1 million people.